AUTOMOBILE TIRE FAILURE ANALYSIS, UNDER-INFLATION
by
Charles C. Roberts, Jr.


Tire failures are a classical cause of automobile accidents and are often investigated by claims personnel as to subrogation potential against the tire manufacturer. However, many tire failures are a result of improper maintenance on the part of the insured and may have nothing to do with a manufacturing or design defect. Tire air pressure tends to reduce over time through various forms of normal air leakage or as a result of temperature variations. The owner of the vehicle is expected to make sure the tire pressure is within the range specified by the tire manufacturer for the loading required.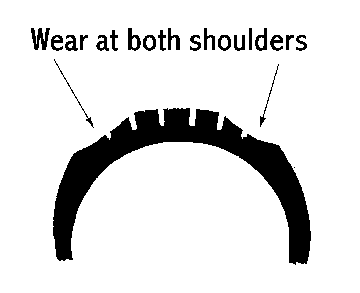 Figure 1




Figure 1 is a classic piece of evidence that the tire has been under- inflated for a period of time. Excessive wear or much smaller tread depth at the shoulders indicates that the outer areas of the tire were supporting the vehicle, since there is insufficient pressure to push out the center.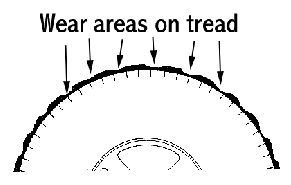 Figure 2
Wear areas on the tread (Figure 2) are also another indication of the tire operating at lower than required air pressure. This is caused by excessive flexure of the tire, brought on by fatigue failure of the internal cord structure.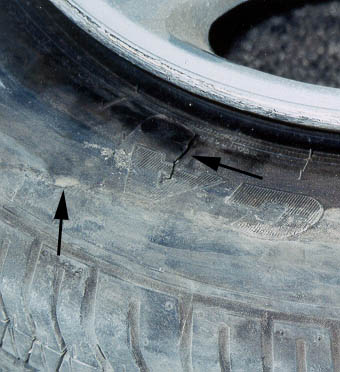 Figure 3



The tire in Figure 3 was on a vehicle whose driver indicated loss of control when it suddenly deflated. Upon inspection of the tire, after removal from the vehicle, the bead was found to be separated, as a result of the accident. There were two openings in the sidewall of the tire. The one at the center of the photo, (right arrow) was a rim nip from the accident; the other (left arrow) was a fatigue related failure.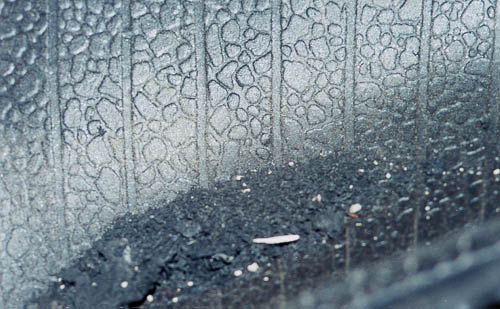 Figure 4




The tire was removed to inspect the inner casing. Figure 4 shows a view of flexed rubber and rough, scab like patches on the inner surface. This is a result of excessive flexure, characteristic of operating the tire under-inflated.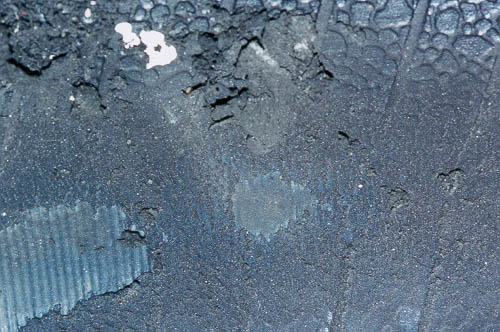 Figure 5




Figure 5 shows rubber dust and debris that came from the inner walls as a result of excessive flexure and is characteristic of an under-inflated tire. Excessive outer tread wear, circumferential flat spots, rubber dust inside the tire and scabbing of the rubber on the inside, are indicators of operating a tire under-inflated. The failure mode is typically a fatigue failure of the sidewall, which can cause an accident, with culpability most likely residing with the person responsible for maintenance of the vehicle.


---
FOR TECHNICAL ARTICLES CONTACT CLAIMS MAGAZINE AND ASK
FOR A REPRINT OF A PAST TECHNICAL NOTEBOOK ARTICLE
CLAIMS MAGAZINE