MOLD PATTERNS ON WALLBOARD AS A RESULT OF COLD SPOTS
by
Charles C. Roberts, Jr.



Mold, a member of the elementary plant kingdom known as Fungi, grows on surfaces as long as spores are present, there is a nutrient source, moisture is present and the temperature ranges from about 40F to 100F. In many homes throughout the United States, mold spores are omnipresent, indoor temperatures range from 50-80F, interior surfaces provide nutrients and moisture is present. Figure 1 is a view of mold growth in the typical cold, damp, dark, unventilated corner of a room or closet. Most will agree that this is the usual mold growth scenario.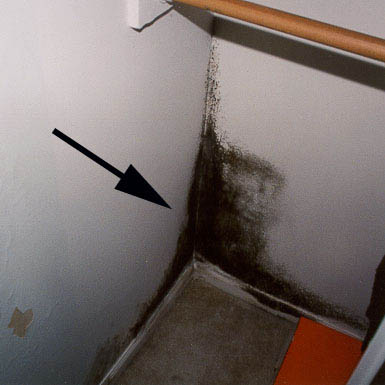 Figure 1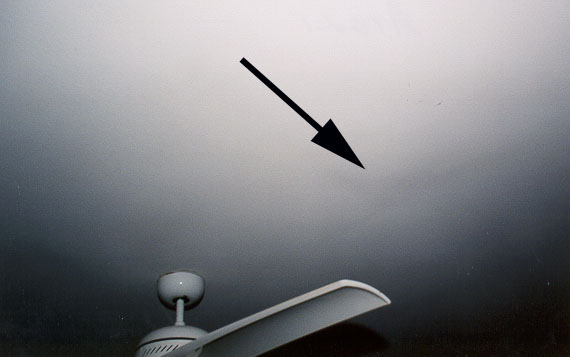 Figure 2


Figure 2 shows a very fine textured mold pattern on a ceiling in a well ventilated, bright room that appears to violate all the conditions necessary for mold growth. The ventilation and apparent lack of moisture suggest that mold growth would be unlikely in this area. A significant ingredient on what is happening here is most likely a cold spot on the ceiling as a result of a building defect or building feature. The cold spot results in condensation, which appears to promote a fine textured mold growth. In order to check out this theory, a test was performed using infrared thermography. The arrow in Figure 3 points to a fine textured mold pattern on a cathedral ceiling of a residential building.




Figure 3


Figure 4



Figure 4 is an infrared thermogram of the same area showing light areas as warmer shades and cold areas as darker shades. The dark, cold areas are identical in pattern to that of the visible fine textured mold pattern shown in Figure 3. The cold spots in this ceiling were a result of small defects in the insulation. Figure 5 depicts a drawing of a gap in thermal insulation that can cause a cold spot on a cathedral ceiling. Many other conditions, such as missing insulation, a fold in the insulation and water damaged insulation, can cause a cold spot, which encourages this fine textured mold development.




Figure 5



Figure 6 is a view of fine textured mold development near eaves on an exterior wall. Figure 7 shows an identical thermal pattern in that area, which is most likely a result of air infiltration through improperly installed bats of insulation.




Figure 6


Figure 7



This fine textured mold is often a result of moisture condensation on cold spots on exterior walls and ceilings. Cleaning of the affected area may not be a permanent solution to the problem if all environmental conditions such as humidity and temperature remain unchanged, because the cold spot on the wall or ceiling surface is a significant factor. The elimination of the cold spot will facilitate a long term solution.

---

FOR TECHNICAL ARTICLES CONTACT CLAIMS MAGAZINE AND ASK FOR A REPRINT OF A PAST TECHNICAL NOTEBOOK ARTICLE CLAIMS MAGAZINE