INFRARED THERMOGRAPHIC ANALYSIS
---
Infrared thermography is the science of acquiring thermal radiation by electronic means and displaying the information as temperature contours on a monitor or video tape.
---

Universal joint rotating at 1700 RPM.
The U-joint pins are lubricated
prior to operation. Analysis is to
test lubrication retention.

Thermogram shows hot area
at U-joint pins indicating heating
and premature lubricant dry out,
a precursor of failure.

Large experimental electrical
coil for magnetic force measurement.
The device is being checked for
short circuits and
other faults.

Thermogram shows hot spots that
are short circuits which must be
repaired. The hot spots indicate
where to repair
the coil.

Two electrical wires are
short circuited causing an arc.
As the arc continues, ionization
occurs.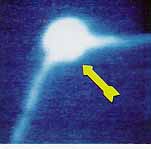 Thermogram shows the ionized
cloud at the electrical
arc. The cloud is nearly
spherical.
---