SPONTANEOUS COMBUSTION WITH HYDROGEN PEROXIDE
by
Charles C. Roberts, Jr.


Hydrogen peroxide is a widely used chemical in the minerals, food processing, paper pulp, cosmetic, pharmaceutical and textile industries. Hydrogen peroxide is typically provided in a solution with water ranging from 2-70% concentration, depending on application. Hydrogen peroxide is a strong oxidizer and will initiate or sustain a combustion process quite readily. (Oxidizers are chemicals that release oxygen during a reaction.) If a hydrogen peroxide solution evaporates on a combustible material such as clothing, a fire may result spontaneously, without the need for an ignition source. Hydrogen peroxide was also used as an early rocket fuel oxidizer.

The following case study is illustrative of an oxidizer related fire. Figure 1 depicts the roof of a warehouse, the arrow pointing to a severely burned area of the metal deck. Looking below this burn pattern yields the photo shown in Figure 2. The arrow points to a badly decomposed mass of plastic bottles, packaging material and wood pallets. The fire occurred early in the morning, before the dayshift arrived.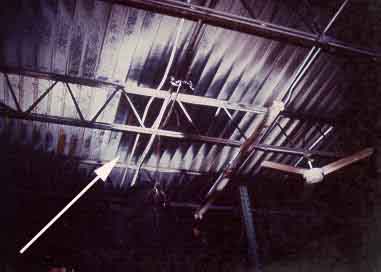 Figure 1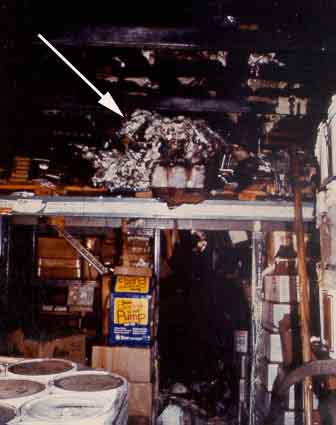 Figure 2




The apparent source of the fire was several polyethylene bottles of hydroxide bleach, an example of which is shown in Figure 3. Conversations with the manufacturer of the bleach product indicated that the concentration of peroxide in water was approximately 25%. The US Department of Transportation requires a DOT Oxidizer label on a product container for concentrations of 8 to 52% peroxide. (49CFR 172.101) The product involved in the fire did not have such a hazard label. Prudent packaging engineering dictates that the bottle for the 25% peroxide solution be opaque and have a vented cap. Sunlight can cause decomposition of the peroxide solution, resulting in oxygen evolution and high pressures. A vented bottle cap is required to relieve pressures in the storage containers to prevent a catastrophic failure of the container. Figure 4 shows the type of opaque bottle that should have been used. A venting cap is not shown but is also required.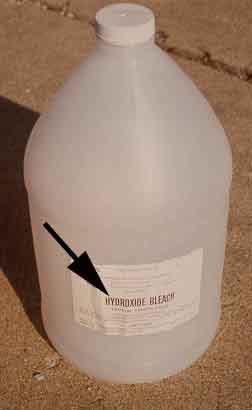 Figure 3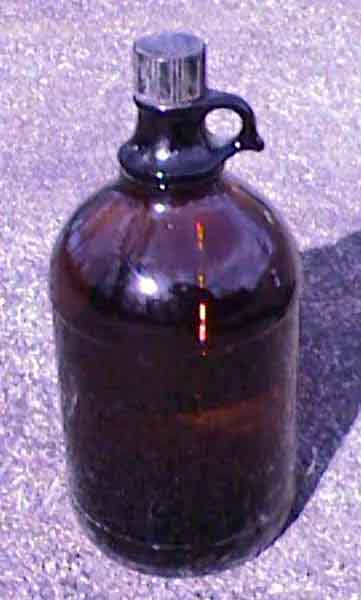 Figure 4




A reconstruction of the fire scenario is as follows: Peroxide solution (25% in water) was being stored in clear polyethylene bottles. Either as a result of agitation, sunlight, or contamination, the pressure increased in the peroxide laden bottles. Since there was no means of pressure release, the pressure in the bottles continued to build until they failed, releasing the peroxide. As the solution evaporated, the peroxide reacted with nearby combustible materials causing a fire. Spontaneous ignition of combustible materials near the oxidizer suggested leakage of the solution. Storage and handling of hydrogen peroxide solutions is well regulated with special safety features mandated for containers. Product chemical analysis acts as a starting point to determine the cause of a fire whose characteristics mimic those found in this case study.


---
FOR TECHNICAL ARTICLES CONTACT CLAIMS MAGAZINE AND ASK
FOR A REPRINT OF A PAST TECHNICAL NOTEBOOK ARTICLE
CLAIMS MAGAZINE