FUEL TANK VACUUM RELATED FAILURES
by
Charles C. Roberts, Jr.



Mobile fuel tanks can usually tolerate a moderate internal pressure consistent with full fuel load and dynamic load from vehicular movement. Mobile fuel tanks are typically intolerant to external pressure and often fail in a buckling mode. Figure 1 is a view of a straight truck with mobile fuel tank mounted on the bed.


Figure 1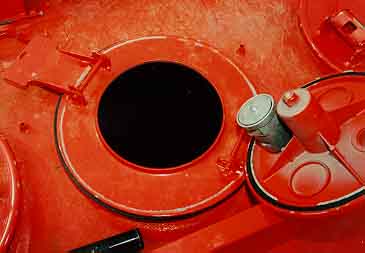 Figure 2
The rear bulk fuel tanks are compartmentalized for a variety of products such as grades of gasoline and fuel oil. Figure 2 is a view of a compartment vent hatch that should be opened during dispensing operations from that compartment. This equalizes the pressure in the tank, preventing the buckling failure. In the hatch is an atmospheric vent valve (Figure 3) used to equalize pressure when the dispensing operation is not being performed.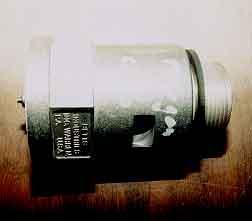 Figure 3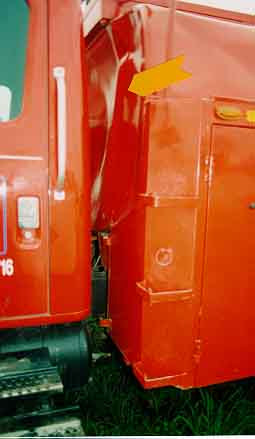 Figure 4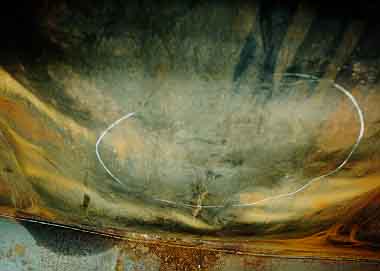 Figure 5
For instance, as a result of evaporation, diurnal temperature and pressure variations, tank damage can occur if pressure is not equalized. The atmospheric vent also reduces vapor evolution and allows containment of the fuel if an overturn accident occurs. The atmospheric vent valve is designed only for this reason and not for dispensing. Despite warnings from atmospheric vent manufacturers, many fuel truck drivers rely on the atmospheric vent for venting while dispensing product, instead of opening the tank hatch. This practice works until a sticky atmospheric vent is encountered or the dispensing flow exceeds the capacity of the atmospheric vent to equalize pressure. As the pressure drops in the tank without sufficient equalization from the outside, a buckling failure occurs as shown in Figure 4. Figure 5 shows an internal view of the buckling of the tank as a result of insufficient venting. The tank damage is costly, requiring replacement or expensive welding. Many claimants tend to blame the atmospheric vent for the damage when, in fact, it is improper dispensing procedure that is the likely cause.


---
FOR TECHNICAL ARTICLES CONTACT CLAIMS MAGAZINE AND ASK
FOR A REPRINT OF A PAST TECHNICAL NOTEBOOK ARTICLE
CLAIMS MAGAZINE