COMPUTER ANALYSIS
---
Computer analyses include finite element structural analysis, finite element heat transfer analysis, fire development modeling, fluid mechanics analysis, gas dispersion modeling and many other computer modeling applications.
---

Finite element computerized
stress analysis of a new
design of a pressure
vessel.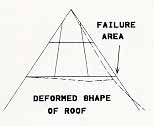 Finite element model of
roof loading explaining the
probable cause of a structural
failure.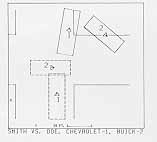 Computerized accident reconstruction
showing impact positions
and rest positions.
---