BIOLOGIC INTERVENTION AS A CAUSE OF FIRE


By
Charles C. Roberts, Jr., Ph.D., P.E.


Figure 1 is a view of a combination excavator loader that was part of a rental fleet. Typically these vehicles remain idle through the winter but with the onset of spring, rental demand returns. The vehicle was started and warmed up by the renter at a construction site when, according to witnesses, a fire developed in the engine compartment. Attempts to extinguish the fire were unsuccessful and a near total loss of the vehicle resulted.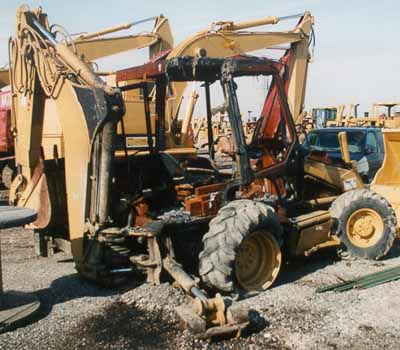 Figure 1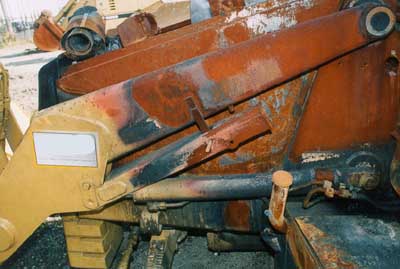 Figure 2



The vehicle was new with no service history problems and no recalls. Burn patterns in Figure 2 tend to confirm a fire origin in the engine compartment. The burn was low with the classic V-pattern. Opening the engine compartment cowling yielded the photo show in Figure 3. The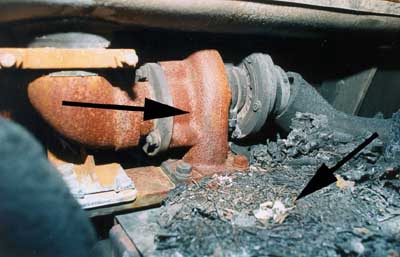 Figure 3



corroded turbocharger housing (left arrow) is quite evident, having achieved normal operating temperatures in excess of 500F, as a result of the hot exhaust gases that drive the unit. The right arrow points to combustible debris on top of the engine near the turbocharger. No electrical or mechanical deficiencies were found at the origin that could have caused a fire.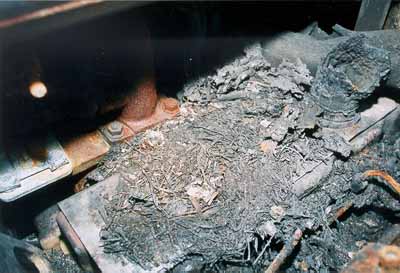 Figure 4



Figure 4 is another view of the debris pattern on top of the engine. Figure 5 is a close-up of a egg shell in the middle of the debris, which was mostly straw and twigs. Skilled analysts would opine that a bird (North American Robin, Turdus Migratorius) had made a nest in the engine compartment. The arrival of spring had been late that year and cover for birds was at a premium since the trees had not yet leafed out. There was easy access to the rain free engine compartment through the exhaust stack clearance hole shown in Figure 6. The massive steel engine provides heat capacity and a stable temperature in the engine compartment. After the birds parted, combustible nesting materials remained and were ignited by the hot turbocharger surface once the vehicle warmed up. Turbocharger surface temperatures are generally high enough to easily ignite typical nest materials. Origin of fire: engine compartment, cause of fire: biologic intervention.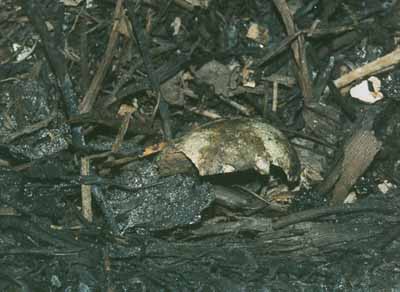 Figure 5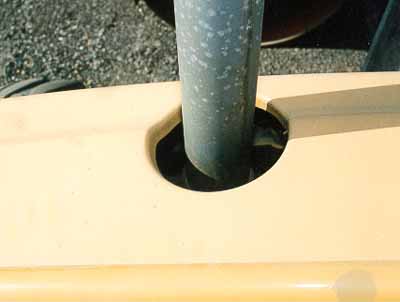 Figure 6



Bird problems are nothing new to the claims industry. Bird nests in chimney flues, which offer a warm environment, have resulted in flue fires and heating equipment malfunctions as illustrated by the bird remains causing overheating damage to the boiler in Figure 7. Equipment that is not being used during the spring is a prime candidate for a bird nest site, which can be constructed in days. Screen guarding of access openings is a typical preventive measure for bird entry.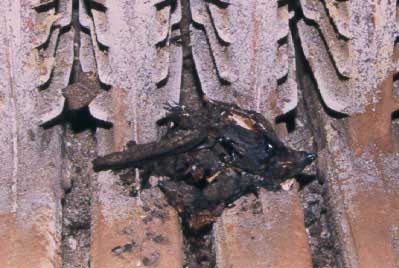 Figure 7







---
FOR TECHNICAL ARTICLES CONTACT CLAIMS MAGAZINE AND ASK
FOR A REPRINT OF A PAST TECHNICAL NOTEBOOK ARTICLE
CLAIMS MAGAZINE